Description
NEW Melton Scholars class.*
Date & Time
Tuesdays, 12:00-1:00pm October 20 - November 24
"A question was posed to Rabbi Tarfon and the Elders: Which is greater, study or action? Rabbi Tarfon answered, saying: Action is greater. Rabbi Akiva answered, saying: Study is greater. All the rest agreed with Akiva that study is greater than action because it leads to action." (Kiddushin 40b)
*A NEW curriculum from the Melton School
Course Description :
This course will offer insight into the foundational Jewish ideas about social justice, and how the intrinsic role of social justice within Jewish belief and behavior compels us to acknowledge and repair the shortcomings in our communities as well as the world at large. This course is unique among the Melton curricular offerings because, in addition to its quest to educate and stimulate discussion, it will encourage learners to translate learning into action. Drawing from Jewish text and history we will explore how social justice work goes beyond addressing short-term needs and looks at structural causes of injustice today.
Dates: Oct. 20, 27; Nov. 3, 10, 17, 24
Tuesdays, 12:00 - 1:00 pm

This course is part of The Rachel Wasserman Scholars Curriculum of the Melton School. The Scholars Curriculum takes students on a journey of deep examination of Jewish texts. and invites students to lend their voices to the ageless pursuit of Jewish wisdom.
About the Instructor: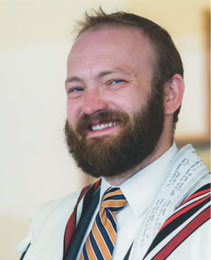 Rabbi Ethan Bair serves as one of the rabbis at Temple Beth Sholom in Miami Beach. A graduate of Oberlin College and a former Fulbright scholar in Berlin, he was ordained at Hebrew Union College in Los Angeles in 2011. From 2013-2018, Rabbi Bair served as the Senior/Solo Rabbi of Temple Sinai in Reno, NV. While there, he succeeded in bringing young families into the community, revitalizing volunteer engagement, and building a culture of social activism. Prior to Temple Sinai, he worked in advocacy at the American Jewish World Service, a Jewish non-profit working to realize human rights in the developing world, and as Campus Rabbi at the University of Southern California Hillel.